Description
Download Teracopy software that gives you a quick and effectively copy and transfer files faster  from one place to another place and keeps secure with just a click on your computer.it support for windows 7,8,8.1 or xp ,32 bit ,64 bit and mac.
TeraCopy Software download for Windows 7,8.1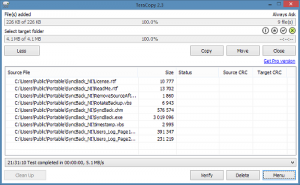 Software Name
File Size
Operating System
Version
Download Link
TeraCopy Software
4.5 MB
Windows 10 32bit,
Windows 10 64bit,
Windows 7 32bit,
Windows 7 64bit,
Windows 8 32bit,
Windows 8 64bit,
Windows Vista 32bit,
Windows Vista 64bit.
3 RC
Download Now
Download TeraCopy Software for Windows to Speed Up your Copying Files
Copying files in windows doesn't have to be slow or aggravating. Once the Free TeraCopy Software is downloaded, copying and moving files will be done with ease.
The Top 5 Features of TeraCopy Software:
Copy files faster: To reduce seek times between file transfers; it is adjusted the buffers so that the asynchronous copy between the two physical hard drives is faster.
Pause and resume file transfers: The copy process can be paused and resumed at any time during the transfer with a single click.
Error recovery: If a copy error occurs, it  will try to fix the problem and if unsuccessful, will skip the file instead cancelling the entire file transfer.
Interactive file list: If a file transfer fails, then TeraCopy allows you to fix the problem and recopy only the failed file.
Shell integration: Explorer's copy and move functions can be replace by TeraCopy which allows file copy as usual.
Whats New in  Teracopy  Latest Version
TeraCopy Software not only supports Microsoft Windows Explorer but it also allows users to continue their work in other programs while tera copy  runs in the background. it is also has the features drag and drop, and copy and paste; and these capabilities make the process to copy and transfer files even easier.