Description
Download ScrapBook is a Firefox extension, which helps a lot to save Web pages and easily manage collections,it has lightness, speed, accuracy and multi-language support for Windows 7,8.1,10 on  32 bit an 64 bit Operating System.
 Scrapbook Add-on For Firefox Web Browser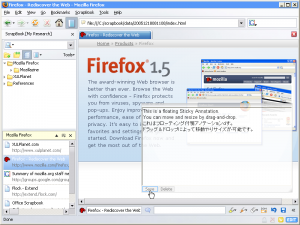 Driver Type
File Size
Operating System
Version
Download Link
Scrapbook Add-on For Firefox Software
248 KB
Windows 10 32bit,
Windows 10 64bit,
Windows 7 32bit,
Windows 7 64bit,
Windows 8 32bit,
Windows 8 64bit,
Windows XP32bit,
windows XP 64bit,
Windows Vista 32bit,
Windows Vista 64bit.
Version: 1.3.7
Download Now
Tired of having to surf again what you had earlier looked on the web? if yes, then it is time you downloaded the award-winning scrapbook Add-on in Firefox , It saves and manages your web pages.
This Firefox extension helps users save their websites as well as web pages. Features include the ability to:
(a) Take and save a snippet of a web page.
(b) Edit the saved web page.
(c) Edit and format HTML or text.
(d) Search text and filter the search results from the collection.
Scrapbook add-on software has the best features that makes browsing on your PC not only fun but safe.
The virus protection feature filters all collections and searches thus ensuring your security, the latest version of Firefox's Scrapbook extension has text editing features that are user friendly. Compared to other similar Firefox Add-on out there, scrapbook is a must have for every Add-on for Firefox user. It is affordable, and Installation is easy. Just key in scrapbooking in the search box. Once it appears just click on Download and you can install it once complete.