Description
If you are looking for a no-cost PDF printer alternative, then PrimoPDF software is highly recommended. The software is downloaded by more than a 15 million satisfied users, guaranteeing its high quality. Download the free PrimoPDF software for Windows 7, 8.1 ,10 or XP for both 32 bit and 64 bit and mac to make your everyday office work more efficient.
PrimoPDF Software Download for Windows 7,8.1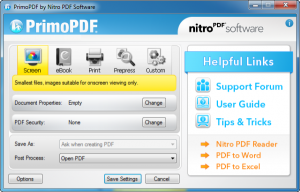 Download PrimoPDF Software to Create a PDF File with Just One Click
PrimoPDF is virtual printer primarily used for quick conversion of various document types (Word, Excel, PowerPoint, web pages, image files and much more) into the PDF files. It is very easy to use and produces high-quality PDF outputs. The software is compatible with Windows and mac platform and completely free to download in full version.
Features of PrimoPDF Software
This lightweight but the powerful utility has a number of useful features. In the terms of its simplicity, the application creates a desktop shortcut where one can easily drag and drop files for further conversion. The wide selection of PDF output formats is by far the best software feature; with just one click you can optimize your document for printing, screen, ebook or pre-press. Another useful feature is the password-protection option. This option helps you to protect and encrypt your information requiring a password to open and change the document. The great advantage is also possibility to merge multiple PDF files created separately into the one, unique document by choosing the option "Append PDF files".
What's New in PrimoPDF Software Latest Version
PrimoPDF software latest version includes various improvements. PDF files are secured with 128-bit encryption, defined as the highest level of security. Users can set up the password to open and change files, disable printing option, disable text editing and copying or disable graphics copying, for instance. There is also a possibility to add metadata (title, author, subject, keywords) to converted PDF files, which significantly improves the search process.