Description
Highly Focus With IP Camera Viewer Software Download For Windows 7, 8.1, 10,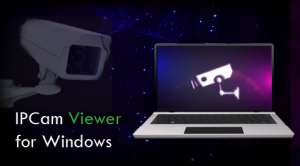 Software Name
File Size
Operating System
Version
Download Link
IP camera Viewer software
18.2 MB
Windows 10 32bit,
Windows 10 64bit,
Windows 7 32bit,
Windows 7 64bit,
Windows 8 32bit,
Windows 8 64bit,
Windows Vista 32bit,
Windows Vista 64bit,
Windows 8.1 32bit,
Windows 8.1 64bit
3.07
Download Now
IP camera viewer you can control and view up to 4 camera feeds simultaneously focus on multiple direction for IP Camera Viewer Software download For Windows 7, 8.1, 10. IP cameras Viewer Software is basically a camera similar to a CCTV camera, but it's also has a built in computer with a web server . It allows you to view live video from your USB or IP cameras on your PC. You can use any USB or IP camera is to keep an eye on your home, office, parking area or anywhere you need security.
The traditional CCTV surveillance that attached to a VCR or DVR , require expensive wiring, costs too much, uses too much electricity and doesn't allow for HD quality images we have grown accustomed to on our televisions, computers, and even on our cell phones. While the IP Viewer Software provides us all the facilities in small and affordable price.
Advantages:
No Loss in Image Quality
Remote Accessibility
Video Management can be done easily
We can expand the system according to our requirement
Features :
Adjust the orientation of your camera preview
Provides a digital zoom, even if it is not supported by your camera.
Allow you to set up a system according to your needs.
Ideal for both personal and business use.