[php snippet=3]
YAC Cleaner is the number-one tool for cleaning your PC. It protects your privacy and makes your computer faster and more secure.Network helps you keep your Network of business Endpoints running smoothly by letting you run yac cleaner from a centrally-managed admin console.
YAC cleaner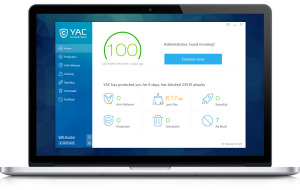 YAC cleaner is utility software developed for removing common malware, adware, virus, and browser hijacks. It has modern looking user interface. Free download is available on internet and it runs on windows  7, 8.1 and Mac. The Yac cleaner has received great reviews since its release and considered among to the best system cleaner. Developer has made it available for free but you could donate in order to help them improve the software.
Specifications
Currently 5.6.54 version is available for free download. The size of the downloadable file is 15.71 MB, which runs on both Windows 7, 8.1 and Mac operating systems.
Usability
After downloading, it is easy to install. YAC scans the health of your PC on first run and alerts you if any issue is detected. With single click, you can fix the issues. Menu enables you with deep cleaning, evaluates safety of web browser and optimizes the registry. In addition, it can uninstall the unnecessary application. Hence, clears your PC's disk space.
Quality
If you want, you could either go for pro or plus version. Purchase legal license key online. Activation key will unlock the other features of the software. It scans and repairs the issues much faster, the other cleaners. Unlike other cleaners, you won't have to wait until the scan is finished. You could work on something else while it scans. In addition, ad block is another feature that is not available with other similar software. The ad block protects you from annoying advertisement that pops up when you surf online, including Facebook ads, pop-ups and many others. It is registry cleaner safer and secure than other top software available for download that promise to protect our system.
YAC cleaner is known to be more effective than popular antivirus or malware software. YAC is easy to use and safe.