[php snippet=3]
Webroot secure anywhere Antivirus is software, which could be bought from its developer's site. Webroot has always received good reviews with all of its versions. webroot is a software that runs on the cloud, so it requires internet for protection. Since it is cloud-based software, it uses less resources compared to other physically installed software. It has real time anti-phishing feature that uses resources from the cloud server instead of a PC. webroot antivirus is software, which is install it and forget it.
Webroot Secure Anywhere Antivirus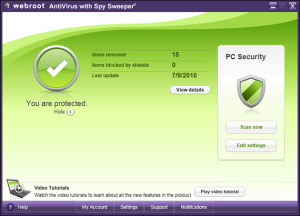 Specification
Webroot secure anywhere supports windows 8.1, xp, 7, and Mac. However, it is cloud-based software, so you do not require large sized physical copy of software on your PC, instead it takes only 1 MB space on your PC. All you require is working internet connection to stay connected. A free download is available.
Usability
It uses colors to indicate protection status on your PC. Green states for protected, orange shows fix needed and red states critical status. On detecting threat, a notification pops out suggesting the proper fix.
Quality
Webroot antivirus never takes a toll on your system, as it never uses the resource of your PC and your system remains lag free. Even the scan takes only 30 seconds, which much faster compares to other software. web security the latest antivirus software requires physical installation on PC. With Webroot secure anywhere, developers have focused on developing a cloud application for protection against virus and other threats. The software supports both 32-bit and 64-bit systems, but never uses the resource of the PC, hence allowing the PC to perform at its best. In order to use full version like pro Webroot, you must subscribe it. Three types of subscription are available 1-year, 2-year, and 3-year. In addition, a free trial is available before you buy the subscription.
Webroot Secure anywhere Antivirus is new age protection, which is accessible from anywhere and could protect your system without being affected by the status of your PC.