Editing videos can be a lot of fun if you have the right software. But, this task is not just about trimming clips and compiling them into a single video. You need to be creative, true by using Video Editing Software. But, more than that, you need to have some awesome platforms which are easy to use and lucid. Yes, video editing is a tough job. You have to import videos, scan and rescan them for the right timing in which they can be trimmed, cut clips with precision, merge them, add or mute audio and finally store it in a proper format. Here is a list of top 5 online video editor free for Microsoft windows 7,8 ,10 operating system 32 /64-bit which are not only effective, but come packed with great user-friendly interfaces:
Easy To Edit With Best 5 Freeware Video Editing Softwares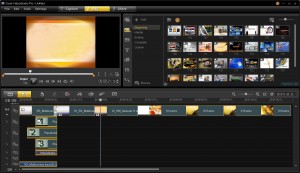 Avidemux is a freeware online video editor  which is also open source. If you are stuck with simple video cutting, filtering or encoding chores to perform, nothing works better than Avidemux software. This software backs a plethora of music file formats, including AVI, MPEG, MP4 and ASP, vlc, music player,window median player with the help of different codecs. A grand aspect of this program is that it lets the insertion of streams into video files. Moreover, Avidemux is perfect for extracting audio streams from video files.
Key features: This avidemux software can automate video editing tasks. Moreover, it supports job queue and possesses a tremendous ability of scripting. Also, it allows non-linear video editing and the application of visual effects in the videos which you make.
If you are into hardcore Video Editing Software , you can opt for Virtual Dub. This software has a unique feature of allowing video capturing; it even allows digital and analog capturing with its support for Direct Show, along with Video for Window capture. The program also contains utilities for Windows 7,8.1,10 which is a great aspect.
Key features: It allows segment deletion, appending new segments, recording existing ones, and capturing to AVI variants. It has audio UV meters and an overlay and preview mode. Most importantly, it has an effective noise reduction feature, which most video editing software lack.
Built on MLT Framework, Kdenlive is a wonderful open-source software for easy Video Editing Software that has been designed for pro video editors. The program is available for a number of operating systems, including Linux, Mac OS 32/64-bit and FreeBSD. Kdenlive is often used by professionals because the videos that result are awesome and incredible.
Key features: Kdenlive gives you this amazing opportunity to pause videos as per your wish and preference. The software also has a feature using which you can apply special transition effects to your video. It has a multi-track editing feature, too, which lets you include multiple audio to the same video.
Another amazing software of the Corel family is Corel VideoStudio pro. The software is 64-bit powered, which makes it a great tool to create unique videos effortlessly. The ultimate version of the program has some added features which include variable speed editing, easy title creation and overlaying, multi-monitor backup, a DSLR mode to enlarge videos and even stop-motion animation.
Key features: Corel VideoStudio is supported in Windows7,8.1,9.1,10 It supports major input video formats and even those meant for devices like smartphones, iPads and DSLRs. As for output videos, the software supports almost all popular formats. Most importantly, the software supports HD videos, enables non-destructive editing, has a storyboard mode, allows 6 video tracks and 4 audio tracks simultaneously and displays tasks in linear time-code.
This is yet another software meant specifically for editing AVI and WMV files. This software comes as a boon from Pinnacle Systems to ardent online video editor enthusiasts. Video Spin software is perfect for editing or creating comedy clips or funny videos. Most amazingly, this software lets you share videos directly with practically anyone.
Key features: Resulting videos are very efficient and run smoothly. The software is user-friendly. The best feature of the product is that it allows video sharing directly on YouTube and Yahoo. Also, if you buy the codecs for MPEG-2 and MPEG-4, you can edit files of these formats, too.
 The best Video Editing Software will let you do more with your clips than simply splicing. Such platforms are like the makeover rooms, where a raw footage enters only to be groomed into something awesome. These are the stages on which you prepare visual treats for your audience out there. So, if you really are choosing a video editing software, make sure to choose the best. Of course, with these five phenomenal programs, wonderful videos are guaranteed.