Description
Your Download Webroot Secure Anywhere Antivirus Software For Windows 7, and Mac your pc or laptops protection and high Internet secure and safe all data files,
Webroot Secure Anywhere Antivirus  Software Download For Windows 7,& Mac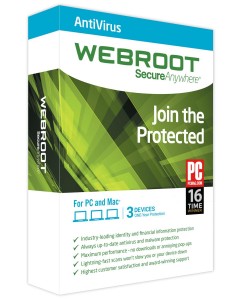 Software Name
File Size
version
Operating system
Download link
Webroot Antivirus Software
30 MB
9.0.13.62
Windows 7 32 / 64 bit ,
Windows 8 32 / 64 bit ,
Windows 8.1 32 / 64 bit ,
Windows 10 32 / 64 bit,
Windows xp / Vista.
Download Now
Your searching Antivirus for pc protection,  just Download latest Webroot Secure Antivirus software
Webroot SecureAnywhere Antivirus 2015 is one of the much talked about internet protection antivirus softwares from Webroot Inc, Broomfield, CO. It comes in three packs  SecureAnywhere AntiVirus, SecureAnywhere Internet Security Plus and SecureAnywher Internet Security Complete, which primarily differ in the number of devices covered, the first one covering a single device, the second 3 devices and the third 5 devices for 1 year .
Basically, it is an Antivirus software for PCs and Mac* focusing on safe Internet surfing and business transactions by seeking to protect the users from viruses, online Phishing, malwares, spywares, identity and data thefts and blocking of suspicious websites. In addition, the Security Plus pack offers account login and password protection, besides covering Smartphones and Tablets. Compared to Security Plus, the Security Complete pack three extra features viz., removing traces of online activity, making deleted filed unrecoverable and a 25 GB hard disk space on the cloud for online storage of data and files.
Advanced Features:
For business security, Webroot concentrates on network protection, stoppage of malware and web-based threats. SecureAnywhere Antivirus easily scores over competing brands like McAfee, Norton and Trend Micro in some of the features like the time taken to download the software (5 sec vs over 62 sec by the second best software brand), disk-space required at user-level (2.1 MB vs 301.2 MB), memory space (4.4 MB vs 51.4 MB) and completion of scans very fast (1m 12 sec vs over 16 m). All these are made possible by the peculiar feature of storage of
While SecureAnywhere guarantees real-time protection, offline protection is not guaranteed as it is a cloud-based software. Though the software has been tested by two independent AV Test agencies, third-party testing by others is not feasible as it is fully-cloud based. Though Webroot seeks to detect and destroy viruses, malwares and spywares as soon as they are found, its ability to track zero-day viruses / malwares etc., is not clearly established. Nevertheless, Webroot SecureAnywhere Antivirus has many pluses which cannot be ignored. It is a must-have for all internet users.