Description
Download Latest Version SplitCam Software For Windows 7, 8.1 And Mac
Have you got a new webcam? then download latest version splitcam software For windows 7, 8.1 10, and mac to easly communication video chat,fun video and audio effects. Have you been searching for a way to liven up your video chats and make them more entertaining? It's time you delight in the experience that SplitCam software brings. With its innovative features, video-calling and video streaming will never be the same.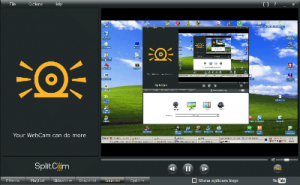 Software Name
File Size
Operating System
Version
Download Link
SplitCam Software
95.8MB
Windows 10 32bit,
Windows 10 64bit,
Windows 7 32bit,
Windows 7 64bit,
Windows 8 32bit,
Windows 8 64bit,
Windows XP32bit,
windows XP 64bit,
Windows Vista 32bit,
Windows Vista 64bit.
7.5.3.2
Download Now
SplitCam is a free webcam software for Windows users that enhances video chatting and video streaming experience through fun and amazing audio and video effects. Through SplitCam, splitting your webcam video stream will become as easy as 1-2-3, enabling you to simultaneously and effortlessly stream videos and video chat with your friends.
SplitCam offers the following features:
Webcam effects that will make video chatting more fun and enjoyable
Video splitting that allows you to use several different applications at the same time
3D Masks which you can use to replace and cover our head with 3D object or even famous movie characters
Extensive streaming capability that allows video streaming from different live stream services and sources
High resolution support that allows HD video streaming for best video quality
Flexible zoom video feature that allows partial streaming of videos and zooming with the use of either keyboard or mouse
Now on its 6th version, SplitCam has been upgraded further for top video capture quality, better broadcast mode with snapshot capability, improved security features, increased YouTube maximum upload, and more responsive IP camera. Download SplitCam today for that unforgettable video calling and video streaming experience that just keeps getting better and better.