Description
While surfing on net , suppose we came across something that we want to save and read later but we don't have any application for that.Pocket extension aims at making this a lot easier.
Many may call it a bookmark but i don't agree with them , its much more than that.Its much user friendly and also you don't need net to read the material later.With integration to about 1500 apps and extension to all major browsers , this software certainly outmatches other in this field.
Pocket Extension Download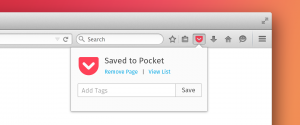 Pocket Extension Compatibility
This application is compatible not only with windows but also with iPhone, android and kobo as well.Pocket allows user to create their own pocket app. It is currently host to 46519 user applications.
This software is not only easy to use but is also quite safe an provides virus protection as well.The security offered by this add-on is also up-to the mark.Altogether , when it comes to security while saving using pocket, you need not think about it.
When it comes to price ,pocket add-on is free.Along with this pocket enables the user to sort the links or either keep or discard them according to requirement
Pocket Extension Key features
1.Three full screen reading modes for day and night.
2.easy sharing to Facebook, overnote or friends.
3.no requirement of net while reading.
Latest features include keyboard shortcuts, fixation of the problems faced by the earlier version etc & this just keeps getting better.some of the keyboard shortcut are for videos press g then v for images press g then i.So for me "If its in pocket, then its in the machine".