Description
FileZilla is a Software an consisting of FileZilla Client and FileZilla Server ,it is available for Windows 7,8.1,10,xp ,linux,mac os, server binaries are available for Windows only,it supports for  FTP, SFTP and FTPS file transfer protocols.
FileZilla Software Download for Windows 7,8.1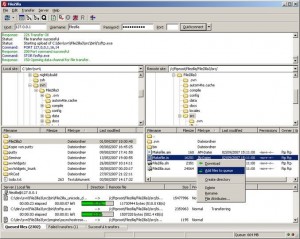 Why to Prefer FileZilla for Windows to Access your Website Server
FileZilla is a free and open source software that gives you a fast and reliable access to your web server across multiple platforms using FTP, SFTP and FTPS file transfer protocols.
Top Features of Filezilla
i) Supports for IPv6 protocol.
ii) It can be used on various platforms e.g. Windows, Linux, Solaris, FreeBSD and Mac operating systems.
iii) It has support for FTP, FTP over SSL or TLS (FTPS) and SSH files transfer protocols.
iv) It has an intuitive and easy to use tabbed user interface with support for drag and drop functionality.
v) It supports HTTP/1.1, FTP proxy and SOCKS5.
vi) Remote files editing and search functions.
vii) Supports transfer of large files to a remote server and with transfer resume capabilities.
Latest updates of FileZilla Software
i) Added support for password protection using SSH private keys. Furthermore, there is no need to convert SSH private keys not in Putty's native format if they aren't password protected.
ii) Enhanced optimization in order to reduce memory footprint. It also has build fixes to solve any existing system errors with previous versions.
iii) FilaZilla allows creation of a directory when changing to a directory that doesn't exist while utilizing synchronized browsing.