Description
Download JetClean Software it optimizes the performance of pc by removing  and cleans junks files from your system and also by cleaning and scanning windows registry entries with just a single click .it gives you fresh ,new pc feeling again for windows 7,8.1 on both 32 bit and 64 bit and mac .
Download JetClean Software for Windows 7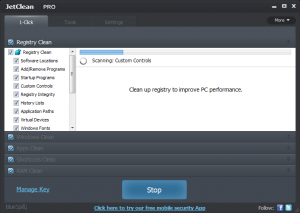 Software Name
File Size
Operating System
Version
Download Link
JetClean Software
3.6MB
Windows 10 32bit,
Windows 10 64bit,
Windows 7 32bit,
Windows 7 64bit,
Windows 8 32bit,
Windows 8 64bit,
1.5.0
Download Now
Download JetClean Software to Clean and Tuneup your Windows
Having problems with your computer's processing speed? Download the new and improved JetClean Full version for free to clean up and optimize your windows OS with just a click and enjoy a fresh PC feeling.
Special Features of JetClean
You can easily delete any broken shortcuts using the shortcuts clean feature while the Apps clean clears activity history in most browsers, windows and third party applications. JetClean comes with an uninstaller to help you locate and delete unwanted files and a performance booster that closes any unwanted processes enhancing the performance of your system. It also has a registry cleaner that scans the registry for any redundant values and frees up space by deleting them and a RAM clean that increases the available physical memory by optimizing memory usage. JetClean is easy to use, lightweight and comes with a friendly and intuitive interface.
New updates of JetClean Software
The latest version of Jetclean Software has fixed multiple bugs experienced in the previous version. It also provides additional and improved support for the Windows 8 Operating System. The software has also enhanced privacy cleaning for the latest apps and has resolved the false detection by AVs.