Description
Do you check the news, reach out to old friends, or maybe even run a small business? No matter what you use the internet for, you need your internet browser to work more safely and efficiently. That means you need safe and reliable software which makes your work easier. Avant Browser is just that kind of software, and it's free to download.
Avant Browser Download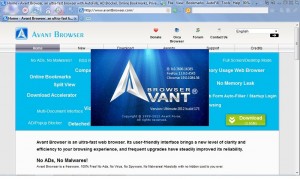 Software Name
File Size
Operating System
Version
Download Link
Avant Browser
4.5MB
Windows 7 32bit,
Windows 7 64bit,
Windows 8 32bit,
Windows 8 64bit,
Windows 8.1 32bit,
Windows 8.1 64bit,
Windows Vista 32bit,
Windows Vista 64bit.
11.7
Download Now
With options to split your view of multiple tabs or even lock your browser windows on top of your other PC applications, you can arrange your workspace exactly how you like it. The browser natively blocks ads, including those bulky flash ads that grind your browsing to a halt, and Avant also provides excellent virus protection. Avant Browser is also the lowest memory usage web browser, which means it works faster and more efficiently than its competitors.
Avant Browser Features
Avant Browser comes with great features and functionality built in. Classic browser features like web form auto-fill and bookmarking are included alongside new options that make browsing the internet a breeze. For instance, Video Sniffer makes it easy to download web videos from your browser with just one click, and the built-in multi threaded downloader accelerates your download speed while simultaneously keeping your files organized. There simply isn't a better option for safe, fast browsing than Avant Browser. Download it now and see for yourself!