Fiddler is a free web debugging proxy and tool for websites which allows you to debug websites easily through interaction as a client to the servers you're connecting to. Fiddler helps with fixing problems related to the website and testing certain vulnerabilities whether it was in traffic attraction or security vulnerabilities. Getting the program will certainly enhance the websites performance and give you more security through your internet web connections. The program is available for download for free and compatible with any system or platform such as Windows or Mac.
Fiddler Web Debugger Free Download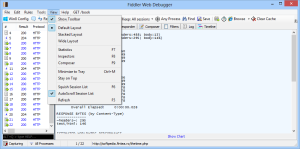 Top 5 Key Features Of Fiddler 
Web Debugging – It allows you to debug traffic using any system platform. It secures and assures that the website uses the proper cookies, cache and headers that are sent through a connection between the client and the server.
Performance Testing – Fiddler allows you to check the weight of the page and compress any responses that are larger than 25kb which helps with the website loading and HTTP caching performance and decrease cache overloading.
HTTP/HTTPS Traffic Recording – Fiddler logs all of your HTTP(s) traffic that are being sent from your computer and the internet. This feature helps with searching through the data and ensuring security.
Web Session Manipulation – It allows you to edit website sessions by setting breakpoints and process the session to alternate the requests and responses from the client to the server.
Security Testing – Fiddler allows you to test web applications for security through decrypting the HTTPs traffics and check responses and requests and pick up the encrypted traffic. It helps with finding vulnerabilities to security and protect yourself from it.
Fiddler Customization – You can customize the fiddler extensibility model through

FiddlerScript

by using any .NET language to develop the extensions and add-ons you are looking for.
Also Read: Webroot Secure Anywhere Antivirus 2015 Free Download for windows 7,8.1
Different Versions Of Fiddler Download
Fiddler contains two available versions for download:
Fiddler4 is the latest version available at this moment that was released on Feb 3, 2015 as the version of 4.4.9.9 which is built for .NET 4.
Fiddler2 is also available for download and it is version 2.4.9.9 which was released on Feb 3, 2015 too and it is built for .NET 2.
How To Install Fiddler?
Download the Installer  Fiddler 4 or Fiddler 2.
Run the installer that was downloaded on your system then agree to the license and then select a directory for Fiddler to be installed in and then click Install.
After it says completed, it means the installation has been successfully completed, then click close to close the installation window. Full version of Fiddler is now available on your computer for full use of all its features using any web browser.