If processor is the brain of your laptop, then battery is the heart and soul. Everyone expect their laptop's battery to last longer. There is a wide array of power saving softwares for laptop on windows 8.1, 7 and Mac on both 32-bit and 64-bit operating systems,  that can do the trick for you. Let us review a few of these.
Best Softwares To Extend The Battery Life Of Your Laptop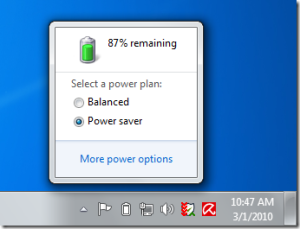 Battery optimizer gives some unique power saving tools, which change the power consumption as soon as it gets away from the power outlet. It optimizes laptop tasks and user profiles, which saves a lot of power. The power saving software tells you how much battery life you can extend by turning off a certain feature. It enhances your battery usage management.
The software is free software that takes care of laptop's battery. The most powerful method it adopts is by keeping a check in applications that unnecessarily drain your battery. This software gives a more precise measurement of battery life by monitoring discharge cycles instead of stored charge. It generates a detailed report about the battery.
This top software comes bundled with CyberPower UPS systems. However, you can also free download this power saver software and use it. It is a good power saving software to keep all your peripherals and data safe. The main features of the software include event logging, runtime management and scheduled shutdowns.
The developers claim that the power saving software can extend your battery life upto 2 times. Using a complex advanced scan of your system, it takes care of the battery efficiency. The main aim of the laptop power saving software is to improve stability of the system. It uses features like auto-standby mode for screen and lights.
Also Read : How to Increase Virtual Memory on Windows 8.1 and 7
This power saving software helps to save a lot of battery and power using a very small program that extends battery life upto 70%. In order to optimize the battery life, it shuts down some specific windows features and programs like aero and sidebar features in windows 7.