After 2D video animation, now it is the time for 3D animations. Main point where 2D video animation is different from 3D animation is the way is the created. 2D animations are created by handmade sketches or through computer drawing. While for 3D animations you need 3D computer software to create characters that are much livelier in nature than that of the 2D animations.
Top 5 3D animation softwares Free Download for windows 7, 8.1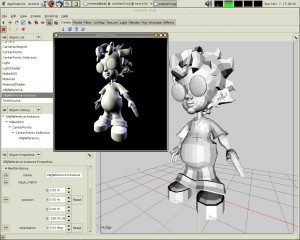 Here are the Top 5 3D animation softwares for windows that you can trust and use are:
Blender 3D Animation Software
The software Blender is open source free software with a flexible interface and features to be used for various purposes of 3D animation. It offers an amazing ultra-realistic rendering. With support of various external softwares, it also features
Tools for fast modeling, rigging, sculpting, UV unwrapping and amazing simulations,
Creation of some of the realistic materials in the animation,
Tools offering the features of creating videos along with some 3D animated games.
Houdini 3D Animation Software
If you are in search of a flexible 3D video animation with high quality graphics, then you can go for Houdini. It helps in fusing 3D creations with real world footage with various features like
A powerful rending engine called Mantra,
A list of various animation features,
Easy to use tools,
Simple to use interface.
ZBrush 3D Animation Software
The software ZBrush focuses on advanced sculpting. It allows you to offer an amazingly detailed 3D animation quickly in a professional way with a number of features such as
Easy and quick sculpting,
Easy use of pixels containing color, depth, lighting and others,
More than 30 brushes and many other tools.
Autodesk 3ds max
Autodesk 3ds max software is there since a long time and is a combination of animation features and rapid content development. The software has application in television, games and cinema with features like
Pose blender for various facial expressions and hand movement,
Extendable features through various downloadable plugins,
Task specific powerful tools and features.
Sculptris 3D Animation Software
Sculptris is one of the most easy 3D video animation softwares for windows that are also free to be used. With amazing paint abilities and color techniques, the software also features
Easy sculpting features,
Planning and rotating of the model for easy viewing,
Built in paint features,
Various file formats to export.
Here are some of the top 5 3D animation softwares for windows that you can really try and trust for creating amazing 3D video animations.